What's the relationship between art and advertising? Is advertising an art? – These are the questions that ignite heated debates and spur lots of arguments.
Taken the purely commercial nature of advertising and the sole purpose of its creation which is sales, many people see art and advertising as completely opposite.
However, on the other hand, both art and advertising are aimed at conveying a message, which makes a sort of 'bridge" between them. Another bridge between art and commercials has been built by the famous artist Andy Warhol, who created his well known series of paintings depicting Campbell's Soup cans in 1962, mocking consumerism. He went on to paint other commercial products and thus the firm border between adverts and pieces of art has been destroyed.
One of the clearest distinctions between art and ads is that people voluntarily choose to be exposed to the works of art and often pay for this pleasure. Ads, on the other hand, are forced upon the consumers, trying to distract them and attract attention to the product being sold.  Therefore, today, many works of art have been reinterpreted by famous brands to get into the minds of their audience.
Look at the most promintent examples of using artworks in advertising.
An attractive companion to Mona Lisa by Leonardo Da Vinci from a German dating service, huh?
This Orbit commercial clearly was inspired by the pop-art works by Andy Warhol.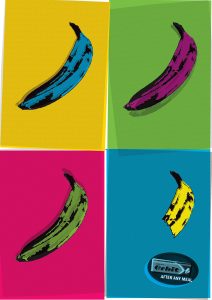 Volkswagen doesn't lag behind with its Polo BlueMotion, driving attention to this model that consumes little petrol through René Magritte and Salvador Dali inspired print ads.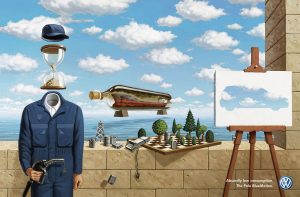 Mazda. Doesn't remind you of Pablo Picasso's works?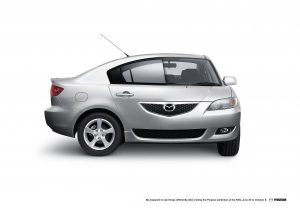 Pizza Hut offers its own interpretation of Mona Lisa savouring its pizza. Who's prettier, in your opinion – the original or the copy?
KitchenAid – a piece inspired by Henri Matisse.
Another one in the same campaign by KitchenAid, resembling the works by Art deco painter Tamara de Lempicka.
The list is far from being exhaustive, but there's one more important view of the issue in question to consider.
Iconic Ads Examples
If advertising was to be called art, which adverts can be considered masterpieces? They surely have to be creative and pull the emotional strings like true art does. But since advertising concentrates on making people take action, in most probability the true art of advertising lies in creating memorable, viral campaigns that make an impact upon the brand and are cited and looked up upon. Which ones would you name here?
See some examples of the world renowned greatest ads below:
Apple – Think Different (1997)
The ad, rolled over 20 years ago, tells a story, sets the brand apart and works to make the world a better place to live. Just 31 seconds – and the impact is so great it is a true masterpiece. It also introduced the famous slogan "Think different".
Nike – Just Do It
Released the staggering 30 years ago, the campaign totally changed the Nike brand, and expressed its philosophy in the 3 simple words that made a huge difference, they encapsulated what people may feel towards sports – you may not want to do it, but – Just do it! In 10 years, Nike's sales were 10 times higher than at the beginning of the campaign and they took over the market. It is definitely a hit!
Absolut Vodka: The Absolut Bottle
At the beginning of the campaign, Absolut had about 2,5% of the vodka market in the USA. The Absolut bottle campaign caused a great shift (reportedly, it was Andy Warhol who pointed out the peculiar shape of the bottle) and went on for … are you ready? … 25 years! It included 1500 different print ads with vodka bottle "in the wild", which made the Absolut bottle the most recognizable bottle in the world and brought the company to import 50% of all imported vodka in the USA, which made the ad legendary.
Well, looks like advertising masterpieces have a lot in common with art – they communicate simple yet powerful messages and are truthful.
When you're ready to air your artwork in advertising, check out TRACKLAM – the online platform for easy and hassle-free ad campaign launch and tracking. Digital and OOH, TV and radio, print etc – convenient online interface, fast and simple. Try today!