Many businesses today, having invested into classic advertising campaigns, receive little to no return on investment, and fruitlessly fight for gaining more profits and new customers through ads. Surely, there are numerous reasons for a failure, one of them being the so-called "banner blindness", which most consumers have worked out, bombarded with all possible types of ads most of the time, both at home and out.
Another type of businesses that fails to increase their revenue or improve customer acquisition are those that cannot afford running traditional ad campaigns, which can be quite pricey. For both cases, guerilla marketing can be a good way out.
What is guerilla marketing?
The term itself was first introduced by an American business writer John Levinson in 1984, in his book dedicated to the subject. "Guerilla" may sound scary or edgy, associate with ambushes and weapons. But what it boils down to is catch your audience off-guard, pass over their "banner blindness" and win their attention by using elements of surprise. It refers to using unconventional advertising techniques in the unexpected places to attract attention.
In most cases, guerilla marketing means cost-effectiveness, as advertisers don't use the classic ad strategy. Nevertheless, it requires using your creativity and imagination, thinking outside of the box. And though you don't invest much money, you do put in lots of time and efforts into your campaign.
Key guerilla marketing tactics used in advertising
The secret of making your message resonate with the audience is to define what is the biggest issue your product helps consumers to handle and find a non-traditional method of communicating it to the target audience. This type of marketing often uses experiential tactics to involve consumers into interaction with your ad.
1. Undercover guerilla marketing
Sometimes referred to as "stealth marketing", it is a tactic that basically means advertising a product so that consumers don't even suspect it is an ad. In most cases, marketers use places where their target audience is concentrated and create a "buzz" around a product (for instance, using social networks or forums), pretending to be its happy users. Sony used this tactic in its campaign in 2002, hiring actors to ask strangers in different cities to take a photo of them using their new phone (Sony, as you might have guessed), and talk about its numerous advantages during the interaction.
2. Achieve maximum publicity
Whatever you do, the task of any guerilla advertisement is get noticed by as many people as possible. Such ads reach this goal sometimes by being so extraordinary that they are picked up by the media, or go viral thanks to the social networks. It helps to spread the word without any serious financial investments. For example, this campaign for King Kong 3D had people snap pictures and share them on social.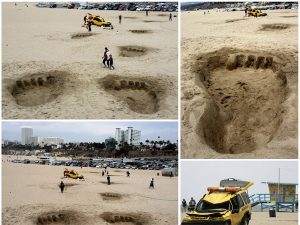 Source: http://www.wordstream.com/blog/ws/2014/09/22/guerrilla-marketing-examples
3. Use creative inexpensive printed materials
Levinson, the "founder" of guerilla marketing, suggested stickers, leaflets and print outs as an alternative to traditional ads. Surely, today they don't surprise anyone… unless made really imaginative, like this AXE sticker, added to the traditional Exit signs in public places.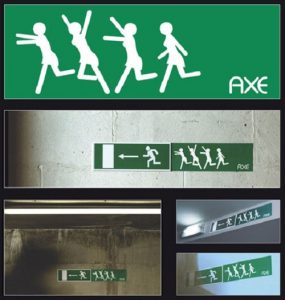 Source: https://media.lpgenerator.ru/uploads/2013/08/18/17.jpg
4. Use environment to place your ads smartly
Think outside of the box to find a way to show your business to the potential customers in the manner that can't be left unnoticed. The hairdresser who created an ad on the photo below definitely succeeded.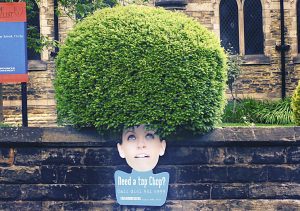 Source: http://yaponochka.com/partizanskij-marketing-priemy-nestandartnoj-reklamy/
5. Use creative branded products
Whether a T-shirt, business card, paper bag or any other thing that you give away, make sure it leaves an impression and stands out. For inspiration, look at this DIY store business card.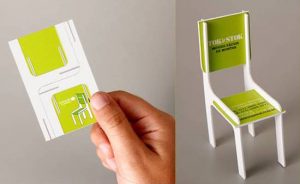 Source: https://texterra.ru/blog/partizanskiy-marketing-effektivnaya-zamena-traditsionnoy-reklamy.html
6. Make your tear-off ads eye-catching
The picture below shows a great example of such tactic – as people tear off the strips in this Weight Watchers ad, the women gets slimmer. Isn't it a powerful message?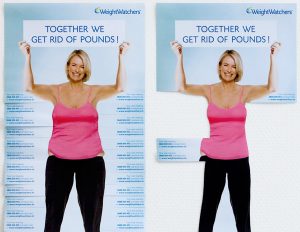 Source: http://www.wordstream.com/blog/ws/2014/09/22/guerrilla-marketing-examples
7. Gamify
You can use games and contests not only for giveaways, but to literally drive consumers to your brick and mortar store or a website. Adidas's campaign to announce their new store opening in Copenhagen featured blue ducks scattered around in a fountain with messages on them asking to help them return back home and be rewarded with a prize for this.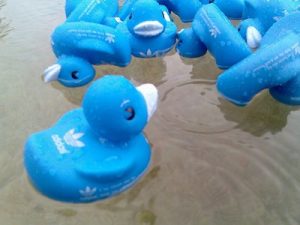 Wrapping up
As you see, there can be millions of ways to make your business spoken about. The hardest part is creating an ad that creates a buzz. Moreover, it is absolutely impossible to use the same idea twice for the same audience – it won't work. You've got to come up with the new ideas each time, which is easier said than done. Nevertheless, go for it!
When you're ready to implement your creativity into life, TRACKLAM is the tool that can help spread the word using different out of home options from billboards to printed materials and digital signage, without leaving your home computer and getting accurate stats. Learn more about this one-of-its-kind solution for running out of home ad campaigns.