When the holiday spirit is in the air and the most looked-forward-to holidays, Christmas and New Year, are approaching, brands catch the moment not only to once again remind of their products or try to gain more during the gift-buying frenzy. Some companies delight their customers with ads that promote sharing joy, loving and connecting with the closest people or simply evoke positive emotions.
To add a festive atmosphere in your office or home, we have prepared a list of the best, cutest, most viewed holiday ads that go beyond the traditional commercials and are actually a pleasure to watch. So, grab a cup of your favourite beverage, make yourself comfortable on the sofa, light up your Christmas tree and enjoy!
1. Heathrow Bears Christmas TV Advert – #HeathrowBears
The Heathrow bears that melted so many hearts (actually, over 5 million)  in the first ad of the series last year, are back. The new commercial shows how Edward and Doris first met and stresses the importance of seeing and spending time with the loved ones, despite busy schedules and constant lack of time. The number of views of the new video is approaching 750,000 just after a month since its release, so it looks like it's gonna break the record of its predecessor.
2. John Lewis Christmas Ad 2017 – #MozTheMonster
This ad from a British department store has received 8,5 million views in just 2 weeks after its release, which serves an excellent proof of its popularity. It is not the first brand's Christmas commercial with such a head-spinning success. Actually, the British tend to look forward to John Lewis holiday season ads as if they were movies. So, the video promotes "Gifts that brighten their world" in a warm and creative manner. Nevertheless, it's got lots negative reviews as well. But what's most important, it's attracting attention, isn't it?
3. M&S 2016 Christmas Ad: Christmas with love from Mrs Claus
We're going deeper into the fairytale atmosphere with Marks&Spencer, which shows the complicated relationship between brother and sister and the way Mrs Claus handles it (yes, this time it's her, not Santa), bringing joy and peace to the family.
4. Allegro English for Beginners Chrismas Ad
This video from a Polish online auction Allegro could easily compete with the previous commercials from world-famous brands, which it actually does with its almost 15 million views. As you can see, creativity has no geographical boundaries and the right message is easily understood, whatever language you speak.
5. Coca Cola Christmas Ad
By this point, you must be already anxious to see this very brand in the list of the best holiday ads. For many people, Coke's commercials are no less traditional and anticipated than the Christmas tree or the New Year's fireworks. So, we couldn't but mention them here. This heartwarming video helps feel the holiday spirit and evokes positive emotions which are naturally associated with the brand.
6. Sainsbury's Ad Mog's Christmas Calamity
The video ad from a British supermarket chain Sainsbury's shows how common efforts and compassion can turn a nightmare into a great holiday, and its slogan "Christmas is for sharing" is a great promo of the true values, which can make you watch this commercial over and over again.
Great Examples of Print Holiday Advertisements
KitKat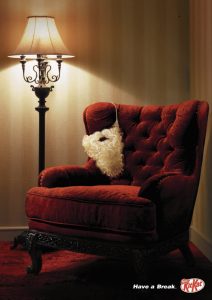 KitKat showed its slogan "Take a break" in action for Santa in the holiday ad. What else is to be added? It's smart, memorable and fun.
Pizza Hut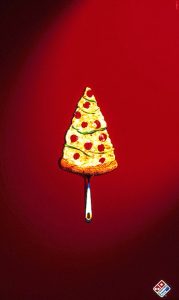 This ad uses a Christmas tree twist to produce a beautiful and attention-grabbing ad that shares the holiday spirit. Note, no words needed.
Volkswagen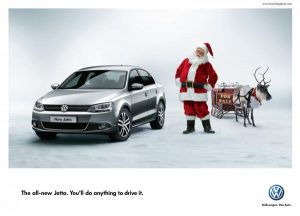 Volkswagen uses Christmas theme as a fun way to promote their new Jetta model. Humor does its job here, doesn't it?
Hopefully, we managed to immerse you in the holiday atmosphere and present a few moments of fun and relax. As you can see, Christmas and New Year's time makes people want to believe in miracles and that fairytale feeling is the secret ingredient that makes up the success of the best holiday commercials.
You already know that with TRACKLAM, your indoor, outdoor, or digital advertising campaign will be launched fast and smoothly online, so we will refrain from repeating it again:) Merry Christmas and Happy New Year!