Even if you're unaware of the latest video stats (Facebook video posts have increased by 94% a year in the USA, and featured 100% growth in the number of daily video views in 6 months), you cannot have missed the general tendency – video is the most popular content and its popularity is increasing steadily.
Therefore, you just cannot afford to ignore the trend and must swim with the tide with your advertising and marketing efforts. If you're terrified at the very thought of the probable time and money investments needed to produce good quality videos, you don't need to be.
Actually, along with the growth of video views, the variety of tools for its creation has grown as well. So, even if you're on a shoestring budget and have zero skills in video making, we've got you covered with this overview of the most affordable, easy-to-use and effective tools for creating video advertisements.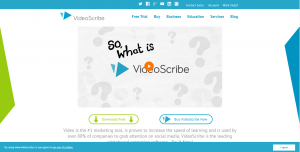 If you're convinced that a good video means acting, makeup and stuff, you're wrong. You can create a very professional looking ad, explainer or demo video showing your thoughts in a whiteboard-style video, with the VideoScribe app.
Your task would be picking among thousands of available images, adding text, music, a voice over, and canvas (you can also add GIF files) and voila – they will be automatically transformed into a whiteboard video. The free version allows sharing the ready video through email, Facebook and YouTube (mind, the app watermark will be present). To remove the watermark and work offline, you'll need to pay  $11/month.
Wideo – animated videos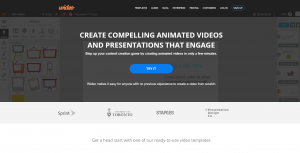 This online software has been around since 2012, and it is a great choice if you want to easily create or edit a video animation. Basically, it lets you either create a video from scratch by adding your own images and sounds or pick from the pre-made templates. It even offers the services of the Wideo's graphic designers should you want something truly special. Oh, and the price – the software is free for creating videos up to 45 seconds long. If this is not enough, be ready to spend from $9 to $39 per month.
PowToon – animated videos
Dating back to 2012, PowToon is a very popular tool for creating animated videos, known for its ease of use. You can select from its rich library of objects and soundtracks and export your ready video to YouTube, Vimeo, Wistia etc right within Wideo's interface. PowToon has a free plan for videos up to 5 mins long, but they will include a watermark. To get rid of it and create longer pieces, you will need to go for the paid plans starting from $19 per month.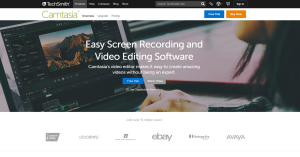 A product by Techsmith, Camtasia is the advanced yet simple software for screen recording and video editing. It is available for Windows and MacOS and may be the right choice if yours is an IT product or you need to create an explanatory video.
In a few words, you can record what's going on on your screen (or its part using smart focus, zoom and pan to stress the most important elements), add a voiceover or a soundtrack, edit playback speed, add logos and links to personalize your video.
Camtasia offers a 30-day free trial, after that its single user license costs $249 (one time fee).
Magisto – automated movie maker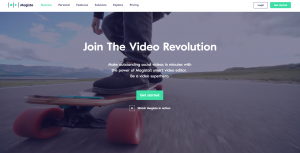 Magisto is one of those apps that top the lists of best low budget video editing tools. Here's why:
it's fully automated

compatible with iOS, Android, Windows, and has an online version
In short, with Magisto you can create a movie from your photos, videos or the combination of two formats. Why is it called automated? Because after you've chosen the images and videos to use, you pick the visual style for the video from the available ones, add the soundtrack (either from its library or yours) and select the length of the video. Then, the app does the rest – adds effects, transitions and style according to the selected theme. Next, you can share your creation to the major social networks in a click.
Magisto offers its mobile users a free Basic plan, which allows downloading the movies for a fee (99 cents) per download.
Before you rush to start implementing your video ads strategy, let us remind you that TRACKLAM online platform can handle launching and tracking all types of ad campaigns, whether online or offline right – from your browser.
Affordable and hassle free. Try today!